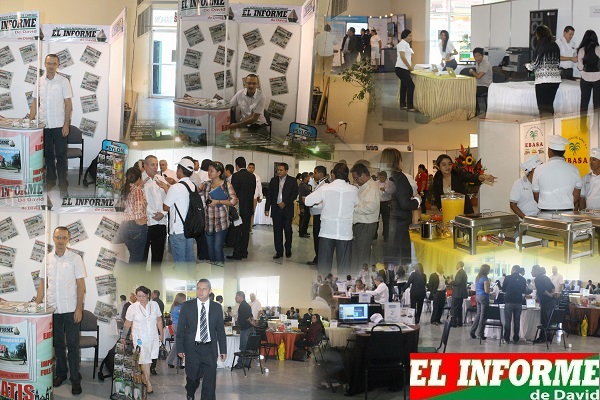 The first "Gran Rueda de Negocios," a business conference which aims to create new sales and commercial contacts between local businesses and international companies, was attended by 16 international buyers from 5 countries and 160 Panamanian businesses and over 500 business meetings were facilitated.
The two-day conference was organized by the Chiriquí Chamber of Commerce, Industry and Agriculture (CAMCHI) and held at the David International Fairgrounds. The event received support from PROCOM, a component of the Competitiveness and Trade Program called "Impulso Panama," the Inter-American Development Bank and the Ministry of Commerce and Industry of Panama. Ricardo Quijano, trade and industry Minister assured that the event was a success and stressed "we have a very vibrant province where products and services are offered not only to Central and South America, but also to European and Asian markets."
For most local vendors participating in the business conference, this was the first opportunity to internationalize their products. That was the case for the Nuestra Señora del Camino Foundation from San Félix, who made direct contact with foreign businessmen who were very interested in their crafts and handmade items made by members of the Ngäbe Buglé community. "We know the market exists and now we have opportunities to sell our handcrafted items while also showing our cultural and ethnic values," said one of the Foundation's members.
12% of conference participants were foreign businessmen from countries like Costa Rica, Spain, China (Taiwan) and El Salvador. "It was wonderful to visit Chiriquí, the conference totally met our expectations," said Ana Candales, a POMBO representative. POMBO, a Spanish company, provides modern and contemporary equipment for residential housing and also commercial and hospitality properties. They took advantage of their stay in Chiriquí to visit the high profile urban projects located in the districts of Boquete and Volcán. "We have made contact with real estate agencies that are already potential customers and thanks to that business relationship, we will most likely have to establish a branch of our company in Panama," said Candales.
The conference also allowed domestic companies to realize the potential they have to negotiate even outside local borders, "through negotiations we can make trade agreements with companies from countries that have already signed Free Trade Treaties with Panama," said businesswoman Mónica Moreno. It is estimated that the event made possible negotiations between participants which resulted in transactions totaling nearly $200,000.
Laura Flores Zamora, on behalf of the Minister of Foreign Trade of Costa Rica, Anabel González and Procomer Costa Rica, said that business conferences have been very important in the development of trade. "Business conferences have strengthened the export sector and provide commercial opportunities on both a national and an international level. They are a valuable tool for cross border trade, in the case of Panama," stated Flores.
Flores said that Panama is a large trading partner. For years, many Costa Rican sectors have exported their products to the Panamanian market, especially fruits, jams, oils, metalwork, chemicals and pharmaceuticals. It is estimated that in 2012, Costa Rica exported to Panama around $581 billion and between imports and exports (trade balance) around $900 billion was generated.
Alexandra Chen, from the Economic Council Office of the Embassy of the Republic of China (Taiwan) in Panama, thanked organizers for this great opportunity offered to companies taking advantage of Free Trade Agreements. "In June, we will be conducting a trade mission to Taiwan in order to bring exporting companies from various sectors and areas of Panama and take advantage of the incentives offered by the Embassy of the Republic of China (Taiwan)."
Chen said that Panama is already exporting products such as coffee and molasses to China (Taiwan), but they have a need for other items such as cookies and processed fruits and vegetables.
"The international conference was a great success. It offered opportunities for companies to market their products locally, nationally and internationally. The success of the event will allow us to lead in the organization, management and development of similar events in the future," said Danelo Araúz, Director of the Trade Commission of CAMCHI.